Jenelle Evans and David Eason are facing child abuse allegations again. After Jenelle's son Jace ran away for the third time and made allegations against the couple, an investigation is now being conducted. Both are under investigation by Child Protective Services in North Carolina and the probe appears to be expanding to include their other children, Kaiser and Ensley. Kaiser is Jenelle's child from her previous relationship with Nathan Griffith and Ensley is her daughter with husband David Eason.
Jace was taken to the hospital after he had run away, and a source told "The Sun" that there were marks on his arm and neck and a door ring cam recorded the alleged abuse that took place. During his hospital stay, it has been reported that Jace has divulged more details about the abuse that all the children have faced at home. The couple have denied any allegations of abuse and are blaming Jenelle's mom, Barbara for spreading lies about them.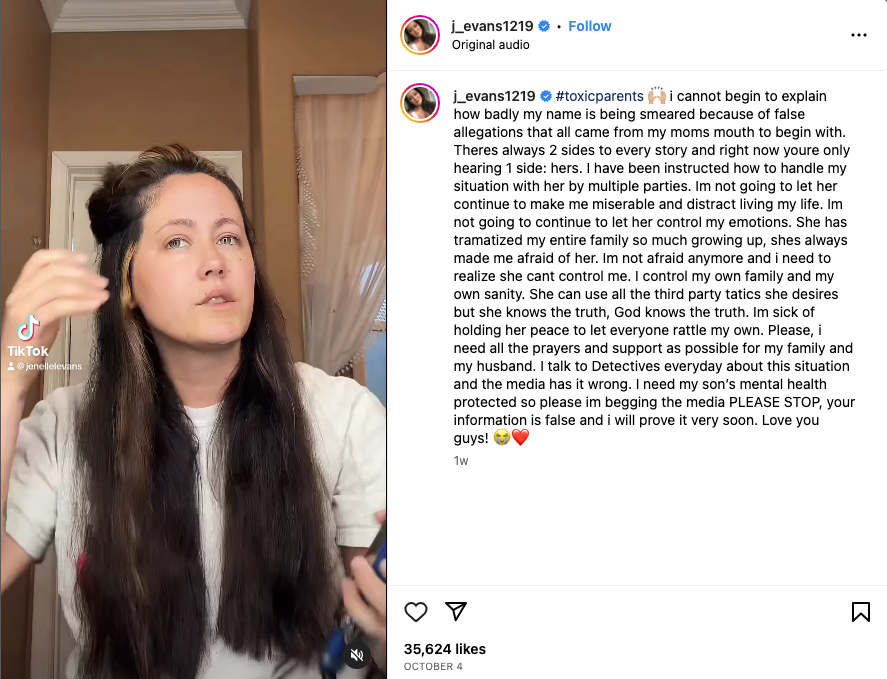 Jenelle, who had Jace at 17, gave her mother custody of Jace when he was still an infant. Jenelle just got custody of Jace last year and during the short time he has been at her house, he has run away 3 times and had stopped going to school. Also, her son Kaiser was suspended from school for three weeks for reasons unknown but sources say that the kids are acting out because of the alleged abuse that they are facing at home.
The first set of allegations of child abuse against Evans first surfaced in 2018, when her ex-husband David Eason was accused of shooting and killing their family dog. During the investigation, police uncovered evidence of what they believed to be child abuse.
Despite Evans' denials, the North Carolina Department of Health and Human Services launched an investigation into the allegations. During the investigation, they looked into evidence of past child abuse and neglect in the Evans family.
The investigation was eventually dropped in 2019 after the department concluded that the evidence was "insufficient to prove the claims of abuse." However, Evans' struggles with her mother and the allegations of abuse continue to follow her.
Jenelle Evans and Davis Eason have been facing allegations of child abuse for years. In 2019, she was investigated by the North Carolina Department of Health and Human Services for claims of physical and emotional abuse towards her son, Jace. NCDHHS claimed the couple has been engaging in a pattern of neglect and physical abuse against Jace. The report cites multiple instances of physical abuse, including punching, kicking, and hitting Jace.
The previous report also claimed that Evans and Eason have neglected Jace's educational and emotional needs. The couple have allegedly failed to provide him with an appropriate educational environment or access to mental health services. The report further cites a lack of proper medical care for the boy, including inadequate treatment for his asthma.
Since the allegations came to light, both Evans and Eason have strongly denied the claims. They claim that the allegations are false. Despite their denial, the allegations have led to a long-term investigation into the couple's parenting practices and their treatment of Jace.
The NCDHHS has launched an investigation into the claims and is seeking to determine if the couple's behavior constitutes child abuse and neglect. David and Jenelle prevented CPS from talking to either Kaiser or Ensley during this investigation. The second time CPS tried to come back, David threatened to shoot them for trespassing.
Evans has denied the allegations of abuse, but she did admit to having a volatile relationship with her mother, Barbara, who has custody of Jace. Evans has previously accused her mother of physical and verbal abuse.
The second set of allegations happened in May 2019 when a 911 call was made by a concerned neighbor who reported hearing gunshots coming from the couple's North Carolina property. This prompted an investigation by the Columbus County Sheriff's Office, and the couple's children were placed in protective custody.
In July 2019, court documents revealed that Kaiser had reported to his therapists that his stepfather had physically abused him. Kaiser described being dragged on the ground, hit with a stick and having his hair pulled. In addition, Kaiser alleged that his mother Jenelle had done nothing to intervene.
The allegations led to the North Carolina Department of Health and Human Services to open an investigation into the couple. In October 2019, the agency announced that it had found evidence of abuse in the home, and that the children had been removed and placed into foster care.
Since then, the couple has had limited visitation rights with their children. David Eason has also been arrested and charged with assault with a deadly weapon and communicating threats.
The allegations first surfaced in late April when a 911 call was made to the Columbus County Sheriff's Office in North Carolina claiming that Ensley had been left alone in the home with her father. When deputies arrived, they found that the two-year-old had been left alone with David, who was accused of "yelling and cursing" and "throwing things."
Sources close to the couple have said that Jenelle and David have been having marital problems for some time now, and that David has been increasingly aggressive towards the children.
For now, the couple has denied any and all abuse, but the authorities are currently looking into the matter. It remains to be seen what will happen next, but the public is keeping a close eye on the situation. Fans have been upset that neither Jenelle and David haven't faced any consequences from the previous allegations. Fans are hoping that this time, the children finally get the justice they deserve.