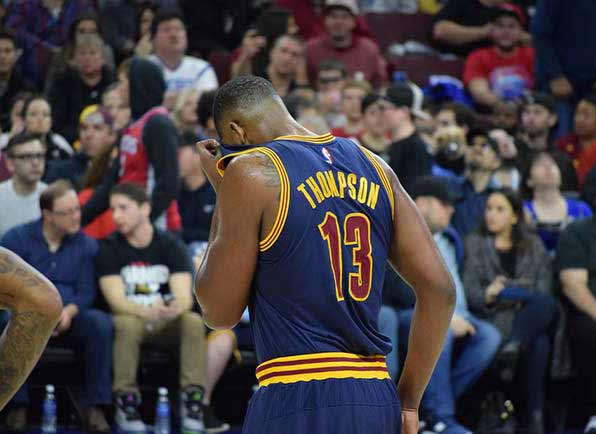 To the absolute surprise of no one, Tristan Thompson is rumored to be dating someone new despite expecting another child with Khloe Kardashian. Last week, Thompson was spotted in Mykonos, Greece holding hands with a mystery woman. Since then, rumors have been flying over who this new girl in Thompson's life is and we want to know why she would ever bother with a man who has earned the nickname of "Trashcan" on social media.
TMZ posted a video on July 18th that showed Thompson walking through the streets of Mykonos holding hands with an unknown woman. This video was posted days after Kardashian and Thompson announced they were expecting a second child via a surrogate. There were rumors on Reddit that the woman was actually Kayne's ex, Chaney Jones but Jones has denied she is the mystery brunette.
The surrogacy announcement shocked Kardashian fans based on Thompson's long history of cheating on Khloe. Kardashian's rep said the following, "We can confirm True will have a sibling who was conceived in November. Khloé is incredibly grateful to the extraordinary surrogate for such a beautiful blessing. We'd like to ask for kindness and privacy so that Khloe can focus on her family."
The timeline of the birth announcement along with a potential due date seemed to indicate that Kardashian and Thompson decided to have another baby before their most recent split. Sources close to both Kardashian and Thompson have stated the couple is currently not together and aren't planning on getting back together despite the imminent arrival of their baby boy.
Fans also notice Kardashian liked a post from the fan account @kardashiansocial that included the caption, "To everyone that's freaking out about this video of Tristan in Greece with another girl, Khloé and Tristan are both single." This indicated to fans that Kardashian isn't concerned about Thompson's dating life.
There is some speculation that the baby boy was born sometime within the last few days. A source told TMZ that the baby was already born but other sources are claiming it should be any day now. Neither Kardashian or Thompson have commented publicly yet about the new baby, Thompson's new woman, or the status of their relationship.
Photo: "Tristan Thompson" by IDSportsPhoto is licensed under CC BY-SA 2.0