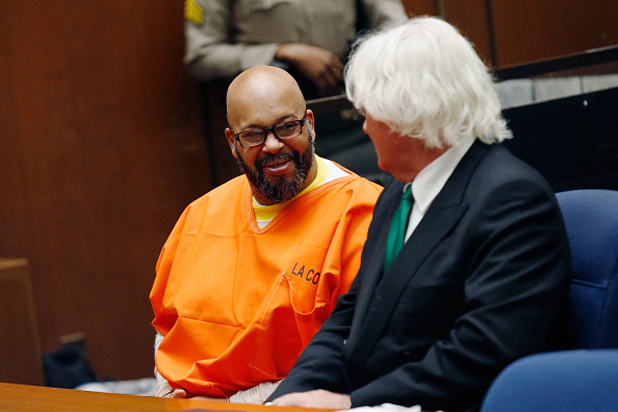 Human parasite Suge Knight is now suing Dr. Dre for allegedly hiring a hit man to try and kill him. Which is super rich considering this is a man that has a rap sheet longer than most threatened his way into Death Row Records, has been to prison, and ran a guy over with his car. He is asking for a lot of money and has a long list of grievances to air about this ongoing feud with Dr. Dre.
The former Death Row Records exec claims that Dre had hired the man who shot him seven times at Chris Brown's pre-VMA party in the summer of 2014. He says when the L.A. County Sherriff's Department questioned a man, identified as "Damian" or "T-Money," he said that Dre paid him for the attempted hit on Suge. Knight says in the suit that despite this confession and 37 cameras in the nightclub where the shooting took place, no arrests were made. He is seeking unspecified damages for that and a few other claims.
The suit goes on to claim that Dre and Universal, who released Straight Outta Compton, paid another man,Cle "Bone" Sloan,  $300,000 to finish the hit in January 2015. Cle "Bone" Sloan admitted to punching Knight during an altercation in the parking lot of Tam's Burgers in Compton before the exec drove away injuring Sloan and killing another man, Terry Carter.
He also claims to be entitled to 30 percent of Dr. Dre's earnings for life as part of a lifetime management deal. He extends that claim to the fairly recent sale of Beats by Dre to Apple for $30 million. The suit also alleges that Dre's many delays of his Detox record were a tactic to avoid paying Knight.
Oh Suge Knight, you deserve zero dollars from Dr. Dre. We would be surprised if he got money from this lawsuit.