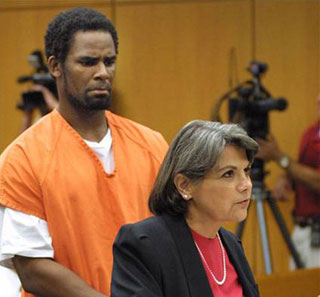 It is fairly well known that R. Kelly has a long and sordid  history of sexual misconduct with young and underage girls, so it comes as no surprise that multiple women have come forward to alleged that R. Kelly used the promise of money and fame to lure them into what has been described as a "sex cult". Now another woman has come forward this week with the claim that last year R. Kelly tried to entice her into having sex with him but after witnessing how controlling he became, she decided to stop seeing him. The woman gave insight into how R. Kelly slowly grooms young women to ultimately become part of his "cult" and move in with him.
The unnamed woman said she was 20 years old when first met R. Kelly backstage at one of his concerts last year. During the performance, the woman was approached by R. Kelly's crew during the show and given a special bracelet that allowed her to have backstage access after the show. The woman said she was excited to meet R. Kelly and even posted to her social media how thrilled she was to be going backstage to meet such an iconic figure. When she finally met the singer, he gave her his number and they chatted on and off for awhile. R. Kelly made promises of fame and fortune to the young woman and then invited her to his home in Georgia, telling her she had to wear something sexy for him.
The young woman went to visit R. Kelly accompanied by a friend. She says that things began to get weird once she was at his house. He demanded that both the woman and her friend not use their phones while in his home. The young woman was ushered into R. Kelly's room and she was asked by the singer to strut and pose in lingerie in his room. He requested to then take intimated photos of her. She was given $200 when she was leaving and R. Kelly requested that she use that money to buy herself  "black lingerie, heels and red lipstick for her next visit".
The young woman then visited R. Kelly two more times after the first visit. She says that after the third time she visited his home, he became too controlling for her. He guilted her into posing for nude photos that she now regrets. The final straw was when her mother got wind of a one-way ticket to L.A. that R. Kelly was allegedly going to purchase for the young woman. Her mother told her that she was not allowed to use that ticket.
These allegations come the week after another woman, Jocelyn Savage, who is part of this alleged "sex cult" has come forward to say that she is not in a cult and that R. Kelly is not holding her against her will. These allegations came to light after her parents have gone public claiming that they have not seen their daughter in 2 years. The understanding was that R.Kelly was going to help Savage launch a singing career so she went to live with him. Now her family is claiming that he is holding her against her will and that he has brainwashed her. Other families have come forward to discuss similar stories and even part of R. Kelly's inner circle are confirming and backing up their allegations.
Both Savage and R. Kelly deny the allegations. A representative for Kelly said Monday afternoon: "Mr. Robert Kelly is both alarmed and disturbed by the recent revelations attributed to him. Mr. Kelly unequivocally denies such accusations and will work diligently and forcibly to pursue his accusers and clear his name."