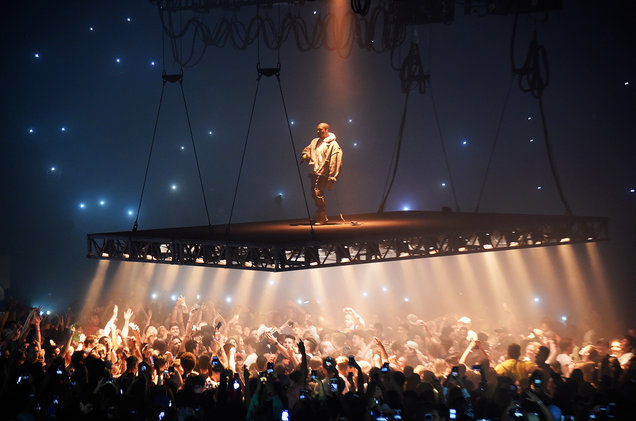 Following closely on the heels of the Paris robbery, things for the Kardashian/West's aren't improving. It appears that Kanye is starting to lose it a little bit. Kanye has always been out there and super outspoken but this latest actions seem to indicate that there is more going on his life.
In his latest concert in Sacramento, CA Kanye attacked his former friend Jay-Z and his wife Beyonce. Kanye was upset because Beyonce said she would only perform at the 2016 VMAs if she won the night's top honor, Video of the Year for "Formation." She competed and won against Kanye and Drake.Which is super ironic seeing that he made a huge scene not to long ago about Beyonce not winning in 2009 for Best Female Video. Beyonce lost to Taylor Swift and Kayne took it upon himself to interrupt Swift's speech with his anger over Beyonce not winning the award.
Shortly after this incident, Kanye has now called off his Saint Pablo Tour which was set to run through Dec. 31, but all remaining shows are cancelled and ticketholders will get full refunds. TMZ reported the news this morning and fans are upset. Sources tell TMZ that, "He's just exhausted. He's been working around the clock on fashion design, both his own line and the Adidas line."
The source also said the rigors of being on the road every night really wore him out, and it sounds like Kim Kardashian's Paris robbery was also stressing him out. The source said, "All the time spent away from his family has been a stress on him as well. They are most important to him."
Although we were looking forward to the tour, it's entirely understandable that he wants to spend time with his family. But it appears that he might be letting the stress get to him. We are eagerly awaiting a response from Beyonce and Jay-Z.