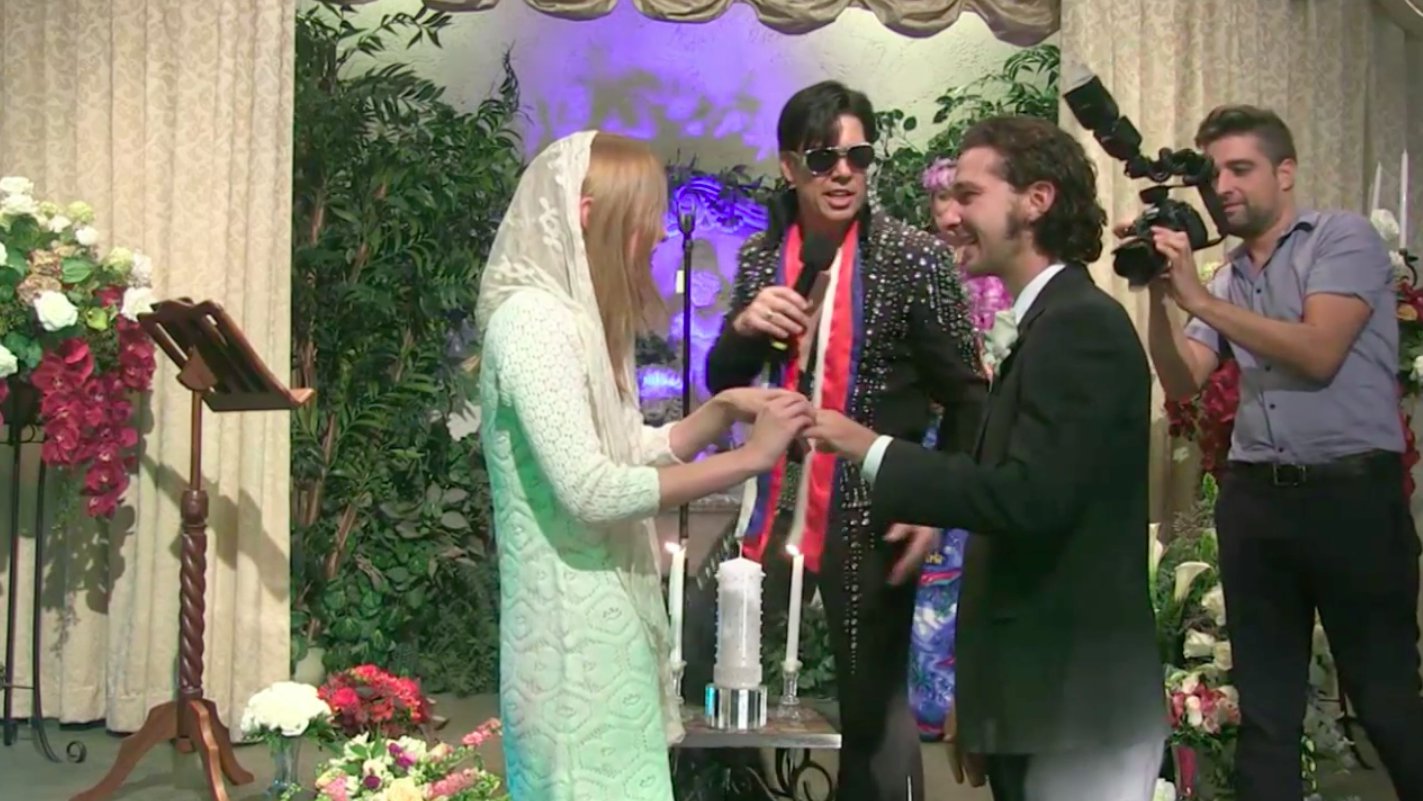 In celebrity wedding news, this might be the weirdest celebrity wedding we have heard of. Shia LaBeouf is known for his off the wall artsy performances. Turns out, he decided to turn his wedding into a public display of artist expression by allowing TMZ to livestream his wedding in Las Vegas.
Shia LaBeouf and his on again/off again girlfriend Mia Goth decided to get married in Las Vegas by an Elvis impersonator at the chapel Viva Las Vegas. The chapel is known for it's themed wedding packages that are popular for people looking for something different. Some of their themes include Elvis and Alice Cooper packages, or the more generic gangster and gladiator themes. TMZ  found out that they went with the Elvis and Hawaiian themes. Mia even hitched a ride in style with Elvis in a pink Cadillac to the ceremony.
The wedding comes at a surprise to most celebrity watchers because last year they got into a violent fight in Germany. Buzzfeed reported in 2015 that while Mia was in Germany filming a horror film when they got into a fight while exiting a taxi outside the hotel. One witness stated that Mia was pulling on Shia's backpack trying to get him to stay. LaBeouf told her that he did not want to become aggressive with her. LaBeouf appeared to be under the influence.  After breaking up the fight, a group of locals drove LaBeouf to the airport and while in the car, he allegedly said that if he had stayed, he would have killed Goth.
Despite that, the couple got back together and decided that getting married live on TMZ would be a great idea. Well, cheers to both of them and we look forward to some future weirdness from both LaBeouf and Goth.