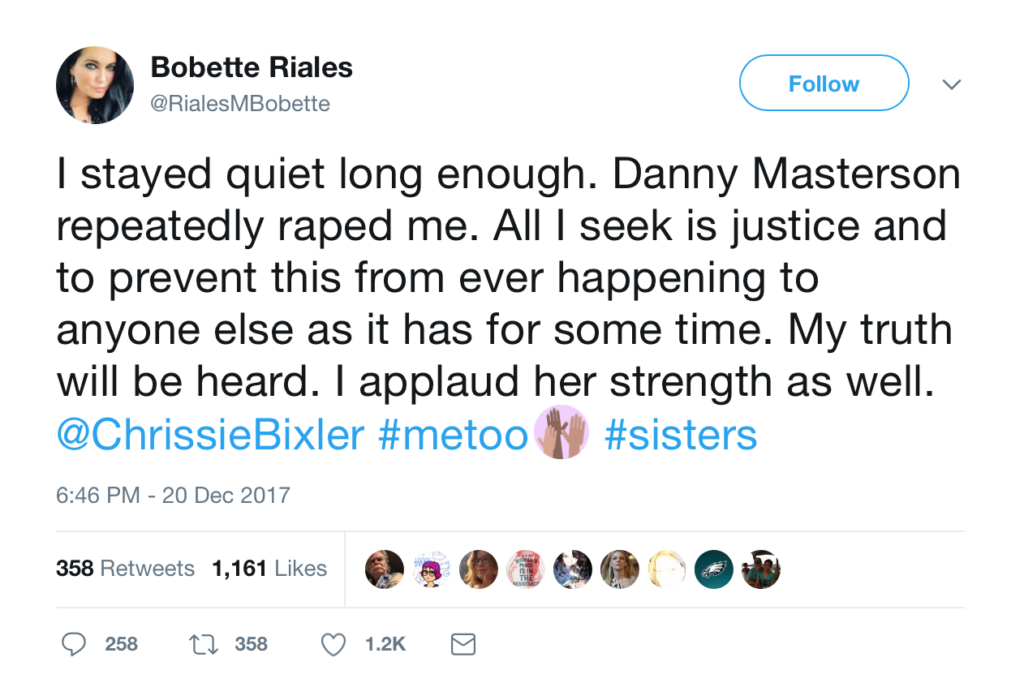 Danny Masterson now has a 5th accuser that has come forward with more allegations against the That 70's Show actor. The latest accuser is an ex-girlfriend of Masterson who alleges that he sexually assaulted her numerous times.
On Wednesday, actress Bobette Riales, tweeted out, "I stayed quiet long enough. Danny Masterson repeatedly raped me. All I seek is justice and to prevent this from ever happening to anyone else as it has for some time. My truth will be heard. I applaud her strength as well."
Riales tagged another one of Masterson's accusers in it along with the hashtags #metoo and #sisters. Chrissie Carnell-Bixler was the fourth accuser to come forward stating that Masterson had raped her. Bixler responded on Twitter saying, "Hey, my Twitter buddies, I just wanted to introduce and ask you to follow and show support to this incredibly brave and strong woman who I've recently come to know and is now forevermore my sister for life. Bobette Riales I'm in awe of you and strength," Bixler wrote in response."
Bixler also stated that the Church of Scientology helped to cover up her claim. She went to the church to tell them what happened and they ignored her. The LAPD has been investigating Masterson since the accusers started to come forward.
Masterson has hired Hollywood litigator Marty Singer and power lawyer Thomas Mesereau to serve as his criminal defense attorney. He released a statement saying, "From day one, I have denied the outrageous allegations against me. Law enforcement investigated these claims more than 15 years ago and determined them to be without merit," Masterson said in a statement. "I have never been charged with a crime, let alone convicted of one. In this country, you are presumed innocent until proven guilty. However, in the current climate, it seems as if you are presumed guilty the moment you are accused."