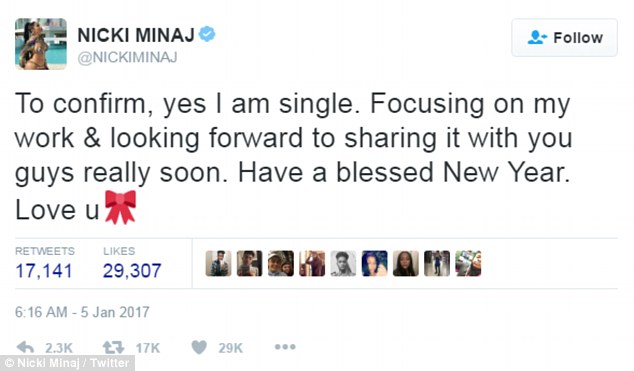 Nicki Minaj has decided it was finally time to dump Meek Mill after almost two years together. It was about time. Nicki has stood by Meek through a house arrest and a very publicized beef with Drake which Meek was on the losing end. TMZ was the first to report their suspicion that the couple had called it quits and Nicki herself confirmed this via a tweet she posted to her Twitter account.
TMZ's reporter Raquel was the first to suggest that the couple had called it quits. She noticed that the couple went to extreme lengths to avoid each other on New Years and it appears that they did not spend Christmas together. Also in December, Nicki posted a somewhat cryptic message on her Instagram with a quote from Beyonce's break up song titled, "Best Thing I Never Had". She wrote "Thank God u blew it. Thank God I dodged the bullet. I'm so over u. Baby good lookin out. #BestThingUNeverHad." After that post, Meek Mill deleted his Instagram.
Nicki finally made an announcement on Twitter confirming the split. She said, "To confirm, yes I am single. Focusing on my work and looking forward to sharing it with you guys really soon. Have a blessed New Year. Love u."
The couple was first spotted together in 2015 and shortly after, Nicki was spotted wearing a huge diamond ring on her engagement ring finger. She said that they were not planning on getting married at that Meek was just a boy who really liked her. She stood by him when he picked a fight with Drake who was a long time friend of Nicki's and a friend of Meek's as well. Meek posted a tweet that claimed that Drake doesn't write his own tracks and Drake did not take that well. Meek was on the losing end of that battle when Drake released two of the most ultimate diss tracks of all time titled, "Charged up" and "Back to Back". Nicki stayed relatively silent on the whole fight but ultimately, we think that it was the start to the end of this relationship.