When Covid made millions of Americans homebound, there was no better time for Netflix to drop one of the most bonkers documentaries ever released on the streaming service.The "Tiger King" has become a meme-worthy obsession amongst the young, the old, the famous and the not so famous. However, there is now a movement to calling to free Joe Exotic and a lot of celebrities are on board.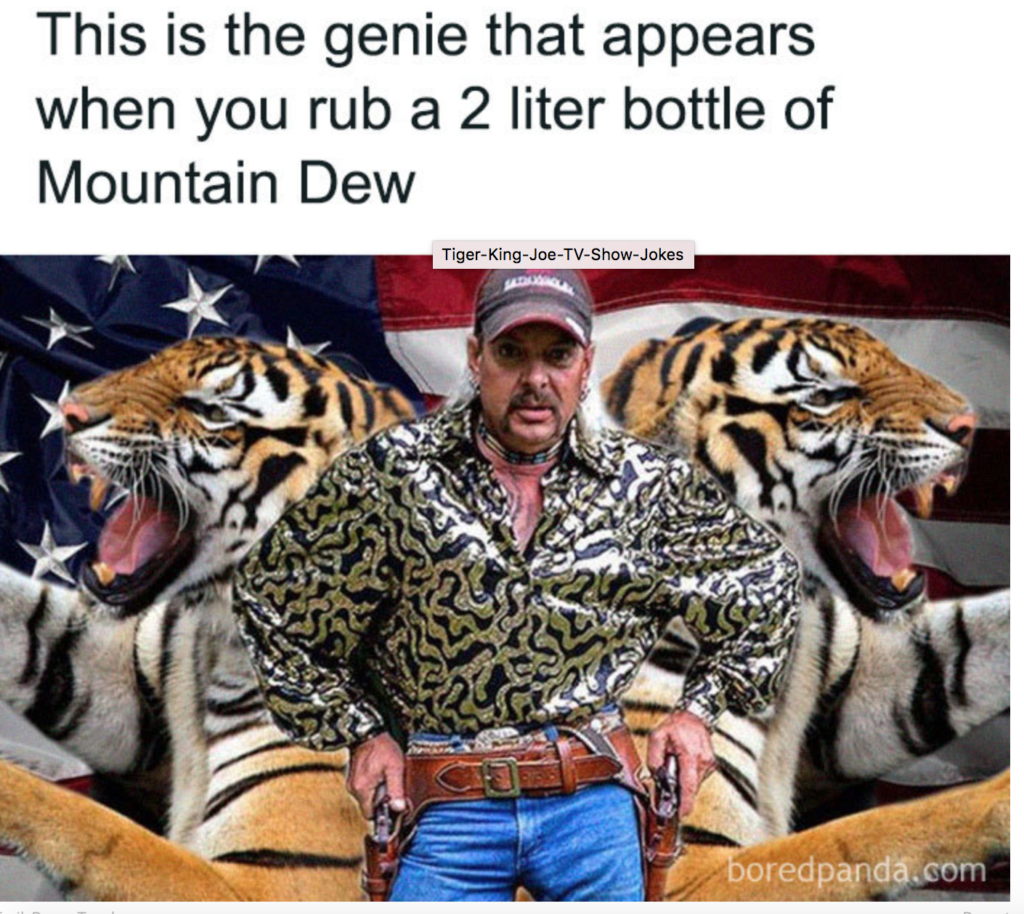 SPOILERS AHEAD!
If you haven't watched the whole series, then stop reading. We highly recommend you tune in to watch the absolutely bananas world of big cat ownership. The series follows a group of people that each own a roadside zoo. Some of the subjects in the documentary don't really like that term. Most the individuals featured in this documentary are outlandish each in their own way but none are more flamboyant than Joseph Maldonado-Passage (born Joseph Schreibvogel) otherwise known as Joe Exotic.
The docuseries, Tiger King: Murder, Mayhem and Madness, predominately focuses on the extremely antagonistic relationship between Joe Exotic and his nemesis, Carole Baskin. Joe, an out gay man, was shunned by his family for his lifestyle. He drove off a bridge when he was younger and broke his back. While he was rehabbing in Florida, he met the person that would change his life forever. He became very close with the manager of Lion Country Safari. This close friend would bring home baby animals and Joe would play with them. He fell in love with the wild animals.
After his brother was killed by a semi-truck driver, Joe took the settlement money and opened up a pet store in his brother's honor. That eventually led Joe to purchase a huge horse farm in Oklahoma that he then converted into a roadside zoo. According to almost all animal rights activists, roadside zoos are cruel and are notorious for animal abuse.  People like Carole Baskin have petitioned to have these zoos shut down.
He first gained notoriety and the ire of fellow big cat enthusiast, Carole Baskin, by traveling around with baby cubs to different malls and charge people to pet and pose for photos with the baby animals. Carole did everything she could to stop Joe from making these appearances. She would email each mall thousands of times pleading with them to stop Joe. Eventually most malls gave in, and cancelled the cub petting. Carole herself was also once a big cat breeder but saw the error of her ways and decided to get these operations shut down. Hence, an epic feud was born.
After multiple lawsuits on both sides, Carole and her new husband finally won a one million dollar settlement from Joe. The issue, according to Joe, was that he didn't have the funds to pay the settlement. He tried transferring ownership of his assets over to his parents so then Carole and her husband would then go after his parents to try and get their settlement. For years, Joe had also been threatening Carole and her husband on his YouTube channel. The animosity dragged on for years.
Now depending on who you believe (team Carole or Team Joe) a murder for hire plot was hatched and Joe paid a park employee of his zoo to head down to Carole's Big Cat Sanctuary to kill her as she rode her bike around her property. According to Joe, he was set up but since he had a habit of threatening Carole, it didn't seem to far fetched that he would take those threats all the way. However, Carole's ex-husband disappeared under very mysterious circumstances years ago and Joe was adamant that Carole murdered him and fed him to their tigers. Joe believed he was being set up and the Carole was the real murderer between the two of them.
Joe ultimately fled Oklahoma and was arrested in Florida as he hid out with his current husband Dillon Passage. In 2019, he was found guilty on 19 counts. The counts included hiring hit men to murder Baskin at least twice, killing tigers and general fraud. As of right now, he is serving a 22-year sentence in federal prison
Despite being a convicted felon, Joe has gained a huge amount of support from the documentary. Some of this support might actually lead to his release. Since the series blew up, numerous celebrities have offered to play him in the film version of the story, posted about him on their social, and have covered his story of their podcasts.
Cardi B has been one of his biggest supporters. She has live tweeted her thoughts about Joe's story since the documentary hit Netflix. She also stated that she would love to start a GoFundMe campaign for him but according to the rules of GoFundMe, people are not allowed to raise funds on behalf of individuals convicted of a violent crime.
They did Joe so dirty over and over again

— iamcardib (@iamcardib) March 27, 2020
Even Kim Kardashian has joined the ranks of people who are fascinated with Joe. She also tweeted about the series saying,"Wow the amount of texts I've gotten about Tiger King since I tweeted about it all have mentioned their belief that Carol killed her husband!"
She followed that tweet up with, "What are your thoughts? Do you think Carol killed him? (Sic)"
With the launch of the Kim Kardashian West Justice Project, could Joe be her next cause? Kim has turned her focus to criminal justice reform and has currently experienced success with the release of Alice Marie Johnson. In 1996 Johnson received a life sentence, without parole, for working as a "phone mule" for a group of drug dealers. Her sentence was very extreme and Kim successfully petitioned to get her released from prison.
As Joe and Carole's stories are still unfolding, it remains to be seen whether all this celebrity support would mean an eventual release. So which team on you on? Team Carole or Team Joe?