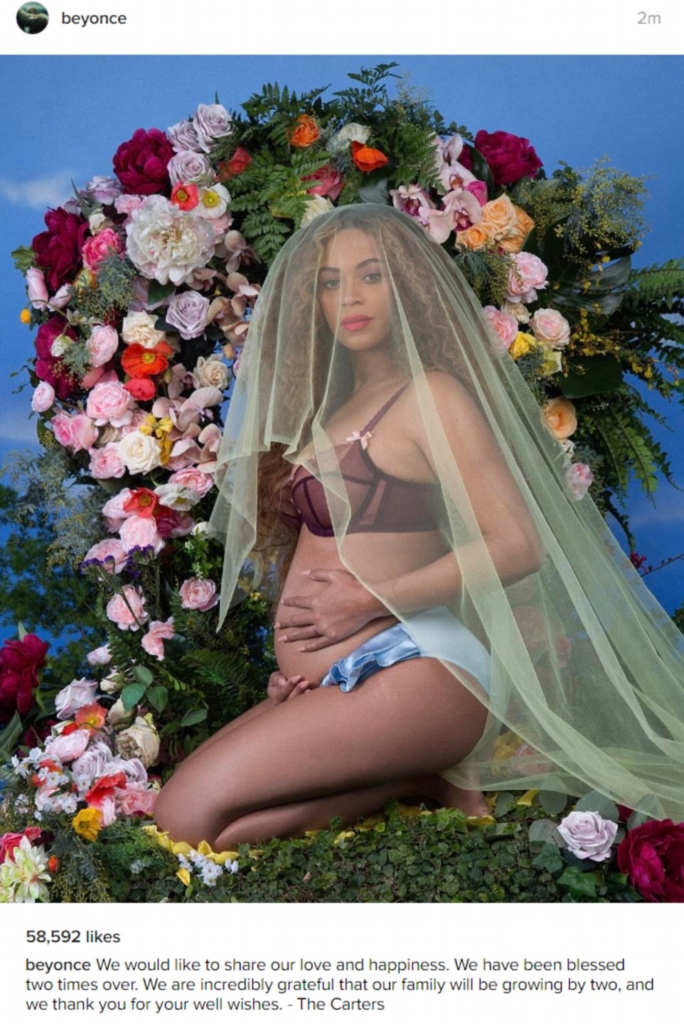 Beyonce has literally broke the internet. Within hours of announcing the good news on her Instagram page, the photo she posted currently is now the most-liked picture ever on Instagram with 8.2M likes, overtaking Selena Gomez's famous Coca Cola picture. Beyonce is pregnant with twins and posted a series of gorgeous photos depicting her in different poses in lingerie proudly showing off her baby bump.
The first photo that Beyonce posted, showed the mega star surrounded by flowers with her hair long and loose, and just wearing gorgeous lingerie with the caption, "We would like to share our love and happiness. We have been blessed two times over. We are incredibly grateful that our family will be growing by two, and we thank you for your well wishes. – The Carters." Within a few hours of posting the photo it had 6 million likes.
She then went on to post more intimate posed photos. The second photo showed Beyonce surrounded by flowers and wearing a pair of tights painted with a floral detail, beside her in the image was a statue of Nefertiti, the Egyptian queen and the Great Royal Wife of Egyptian Pharaoh Akhenaten, whose name means the beautiful one has cometh forth. The photo bears a striking resemble to the famous painting The Birth of Venus painting by Sandro Botticelli.
There are more photos in the series that are all very ethereal and peaceful in nature. The singer's daughter, Blue Ivy, also poses in the photo with the Beyonce and the singers face just beams with happiness.
Radar Online reported that because Beyonce had difficulty conceiving, so the couple took the IVF route. They have also decided that they would choose one boy embryo and one female embryo so it looks like Blue Ivy will have both a younger brother and younger sister.
This news comes as a surprise due to the all the rumors that have been circulating lately about the couple. It has been reported that the couple was on the brink of divorce due to infidelity on Jay-Z's part. It was reported that the couple worked really hard on their relationship and it appears that they are back on track. We wish this couple the best and we can't wait to see pics of the adorable babies!