After a lot of spoilers and lot of speculation, Becca Kufrin has finally made her choice for her future husband. She picked the 29 year old Medical Sales rep, Garrett Yrigoyen, from Reno Nevada and she sent home Blake Horstmann. In the dramatical finale, aired last night, showed the difficult choice Becca had to make between the two men. Most people were rooting for Blake based on the fact the Garrett had some very problematic issues with his social media. Also, throughout the whole season there was a very obvious and strong connection between Becca and Blake. While she appeared to have a good time with Garrett, Blake seemed more well-rounded and also was very open with his feelings. Since their first one on one date, fans thought that Blake was the obvious choice.
But it was not meant to be, after giving his full speech, Blake was sent home to nurse his broken heart. Although, there had been rumors that Garrett was going to be the last one standing, people held out hope for Blake. After fans learned of Garrett's problematic social media use after the first episode, they were quick to condemn him but as the season wore on, he managed to win over some people with his simple and seemingly sweet disposition. Some fans were able to forgive his transphobic, homophobic and racist likes on certain defamatory Instagram posts but others not so much. During the finale, many took to social media expressed their frustration that Becca picked someone that had liked and supported all those hateful Instagram posts. Early on in the season, Garrett issued a public apology that stated the following: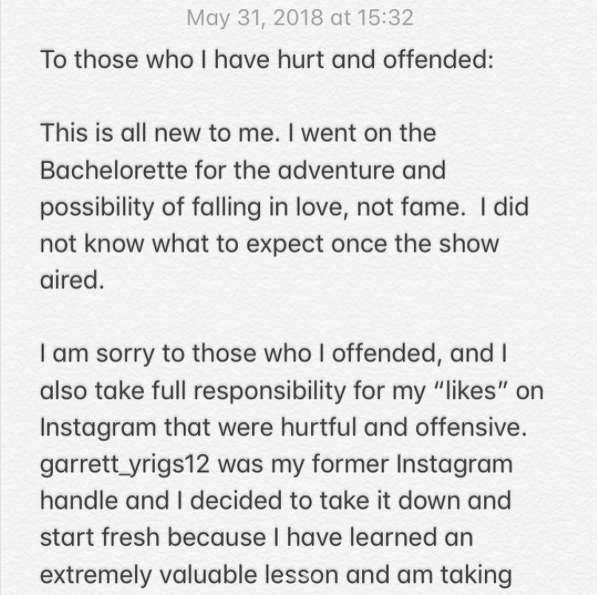 During the After the Rose Special, host Chris Harrison addressed the controversy. When asked about those likes, Garrett said, "I didn't realize the effect of a double tap or a 'like' on Instagram," Garrett explained. "I didn't mean to hurt anybody's feelings . . . I stand by everything I said in my apology. I'm trying to grow on a daily basis."
Becca has asked fans early on to be open-minded about Garrett. Becca told Entertainment Tonight, "I want them to go through this season with me and watch my love story unfold with all of these men. I did things in the past that I'm sure [weren't] the best [things], but I just want people to stay open-minded to everyone."
During the finale, she said that although she doesn't agree with his past Instagram usage, she believes that he has learned from the situation. She told Chris Harrison, "The Instagram situation, I don't condone that and I know that he stands by his apology and he feels so bad for everyone that he did offend. He didn't mean it. But I just want to move forward, to learn and to grow and continue to educate ourselves."
Fans of the franchise were not pleased with outcome. Multiple people took to Twitter to express their outrage that Becca picked Garrett over Blake.
Bachelor nation rn realizing they wasted their time for Becca to end up choosing Garrett #TheBachelorette #TheBacheloretteFinale pic.twitter.com/5v5Ukqr91m

— Bachelor Trash (@BachelorTrash) August 7, 2018
Blake: I love you, you're amazing and everything I could want. I want a future with you and live life with you.
Garrett: I love the way you say bag.
Becca: I pick Garrett.#TheBachelorette #TheBacheloretteFinale #Becca #Blake #Garrett pic.twitter.com/oipdgM5lON

— Kate (@sharkbaitykatie) August 7, 2018
She's worried about Blake's anxiety, but is willing to teach Garrrett how not to be a racist/homophobe? Girl, bye. #thebachelorette

— Jamie Wesley (@Jamie_Wesley) August 7, 2018
There has been no wedding date set yet but the couple appears to be full steam ahead despite the lack of support from Bachelor/Bachelorette Nation. Normally, we would say congrats but we aren't Garrett fans either and honestly, we believe that this relationship is not going last.