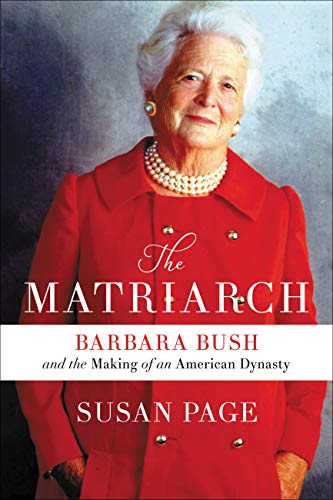 The Bush family has been in the news a lot lately. There have been marriages, funerals, and now a book. A new biography about Barbara Bush, "The Matriarch: Barbara Bush and the Making of an American Dynasty" by Susan Page details the life of one of the most influential first ladies in American political history. Bush died last year at the age of 92 from complications from congestive heart disease and chronic obstructive pulmonary disease, or COPD. The biography gives a very inside look into the former first lady's life as the family rose through the political ranks.
There were some very surprising revelations in the book that were quite shocking. The book includes interviews that the author had with Barbara in the months preceding her death. It was revealed that Barbara suffered from depression and thought about killing herself during the 1970's. It was suggested in the book that the reason why Barbara suffered from depression was because she either knew or suspected a long time affair between her husband, George H.W. Bush, and one of his long time aides, Jennifer Fitzgerald. This was never confirmed but Page firmly believes that this to be true.
Her ex daughter in law, Sharon Bush, had a lot of feelings about this revelation. She states that she never had direct knowledge of the affair but she told People in a recent interview  that she believes the long time rumors about the affair. Looking back, Sharon wishes that Barbara would have reached out to her for help or support. She told People, "I would have thought she would have been more empathetic, having gone through that herself. It's just interesting that she was suicidal but would not even take my phone calls, wasn't empathetic at all," she added, "I was in shock because, you know, we had a very close relationship."
The affair would be denied by all parties when the allegations first surfaced. Fitzgerald first worked for George when he was the top U.S. diplomat in China. She later followed him when he decided to come back to Washington, D.C., and then stayed with hum during his run for presidency and when he won, she followed him to the White House. Allegations first surfaced in 1988 and then later in 1992. Barbara was very adamant that there was so affair during that time. Fitzgerald to this day denies that there ever was an affair.
Sharon's very public divorce in 2003 from Barbara's son, Neil, was a headline grabbing story. It was discovered that Neil was having an affair and Sharon felt like she was cut out of the family. The recent revelation about a possible affair between her ex father in law and his aide brought up some painful feelings for her. She wishes there could have been more of a relationship so the two women could have supported each other through such a difficult time.
The book, available on Amazon, has a 4.5 out of 5 on Goodreads and is described as "the riveting tale of a woman who helped define two American presidencies and an entire political era. Written by USA TODAY's Washington Bureau chief Susan Page, this biography is informed by more than one hundred interviews with Bush friends and family members, hours of conversation with Mrs. Bush herself in the final six months of her life, and access to her diaries that spanned decades. THE MATRIARCH examines not only her public persona but also less well-known aspects of her remarkable life."