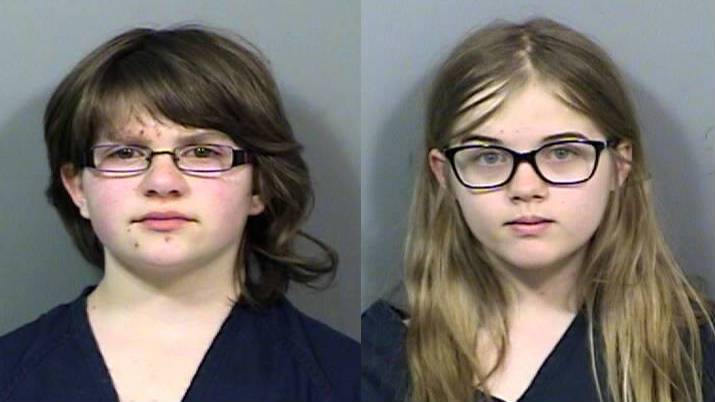 This case has riveted the nation since it happened in 2014. The thought that two young girls could stab a friend to almost death to find favor with a fictional internet character was shocking. After almost three years the parents of one of the girls, Anissa Weier, are finally speaking out about the tragic incident that happened between three girls that used to be very close friends. Her parents, Kristi and Bill Weier, appeared on Good Morning America on Monday to talk about their daughter and her motivation.
Anissa Weier and Morgan Geyser are both facing up to 65 years in jail for the attempted murder of their friend Payton Leutner in 2014. The girls were 12 at the time of the stabbing. They invited Payton over for a sleepover and then took her out to the woods in Waukesha, Wisconsin, on May 31, 2014, apparently to appease an internet fictional character named Slender Man. The character first appeared online in 2009 as part of an online art contest. The image became a popular internet meme and inspired a lot of online stories that starting popping up online that fueled intrigue and curiosity in the character.
Anissa's parents revealed during their interview that their daughter wholeheartedly believed in the character and wanted to prove that the character was real when she attacked Payton. 'They thoroughly believed that Slenderman was real and they wanted to prove that he was real,"Kristi Weier, Anissa's mother, said. They did say that there daughter is completely remorseful about the stabbing. Both parents also said that they had no idea that their daughter had such an obsession with Slenderman. They also revealed that they have yet to speak to Payton and her family. Mr. Weier said, "If they were here face to face I would tell them I'm sorry, I would tell them I'm thankful Payton survived and I would tell them that for as much as they are struggling with trying to process this and what happened to their daughter, we are struggling equally trying to process this with not only what happened to their daughter but to our daughter."
They also spoke about their visits to their daughter in jail. They said that their daughter tries to vent to them during their visits but have to limit what they talk about because all visits are recorded. They never talk about the criminal case in fear that something that is said could be used against their daughter at the trial. Her father said, "Sometimes she tries to vent a little bit during our visits and most of the conversation is stuff that has already been revealed in court so we feel comfortable enough trying to console her and help her with how she feels that day."
Her parents are still trying to process their daughter's actions. The word that Mr. Weier used a lot during the interview was "surreal". He said that "It was really kind of surreal from the time I got the phone call to the time that we realized there were more things going on than what we were initially led to believe.." He went on further to say, "It's, surreal is the best way to describe it, because you struggle with processing what you're finding out about what your child is being suspected of."
Anissa has been behind bars since May, 2014. Morgan was moved to a mental health facility in March last year. Now 15, Anissa is awaiting trial in an adult jail. She pleaded not guilty to attempted murder last year on the grounds of mental illness. Both are being tried as adults in court but their parents are fighting to see them tried as juveniles.