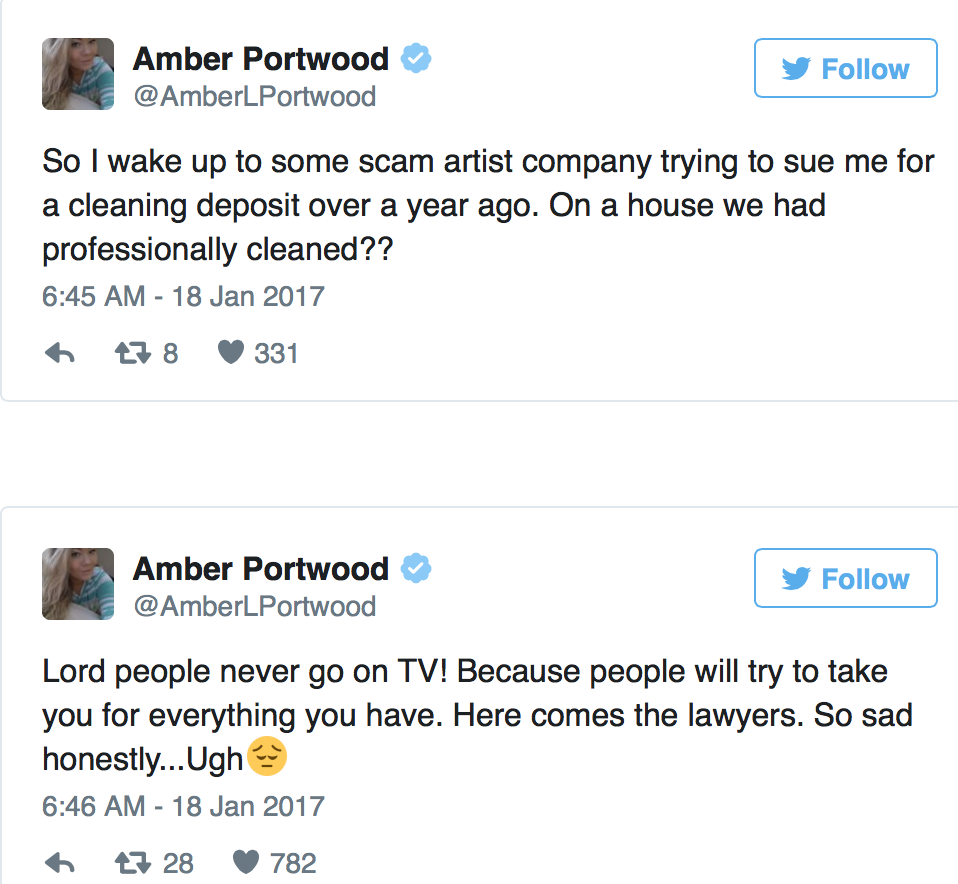 Another day, another Teen Mom scandal. This time Amber Portwood is at the center of the latest Teen Mom drama. She always seem to be at the center at some kind of drama. This time, it's her former landlord who has beef with the reality tv star. The Daily Mail reported that they had obtained legal documents that state that an Indiana debt collector, Zuluscape, is suing the reality star on behalf of the Teen Mom's former landlord. The company filed that suit earlier this month.
The ex-landlord is demanding more than $6,000 in damages and unpaid rent from Amber Portwood after her pets left a 'nasty' odor in a rental home and destroyed the home. The suit alleges that the landlord had to paint the walls of the entire home and put in new carpets because of the  nasty pet stench left behind. Court documents also show that Portwood left the house a disaster and vacated the house without paying the rest of the rent due on the lease.
Amber signed the lease on the Indianapolis property in July 2015 and it expired the following June. She and her fiancé, Matt Baier, reportedly lived together in the home with her six-year-old daughter, Leah, Baier's two rescue dogs and two kittens. Amber initially agreed to pay $1,200 a month in rent, $1,150 as a security deposit and a $200 pet fee. In July, Zuluscape wrote to Portwood claiming the damage totaled more than $7,000. They claim that the $7,000 was to install new 'deodorized' carpets, the removal of all the things she left behind, dry wall damage repair, new door knobs, cleaning fees and new coats of 'deodorized' paint to mask the smell of her pets and that she owes $1,648.24 in unpaid rent.
Amber has since responded with allegations with her own. And of course, Amber used Twitter to air her thoughts about this lawsuit. She tweeted, "So I wake up to some scam artist company trying to sue me for a cleaning deposit over a year ago. On a house we had professionally cleaned??". The scam artist that she is referring to is the company Zuluscape. She then followed up with another tweet that said, "Lord people never go on TV! Because people will try to take you for everything you have. Here comes the lawyers. So sad honestly…Ugh".
For anyone that has seen the show, they know that Amber lets her dogs use the carpet as a litter box. She also loves animals and has adopted many rescue animals, which is amazing, but it comes as no surprise that the landlord decided to sue. Every time they show a scene with Amber and her dogs, the house is always is disarray. Well we can't wait to see if the landlord ever gets their money.